Exhibitions and Events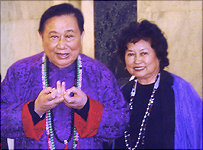 H.H. Grand Master Thomas Lin Yun with Dr. Yi-yu Cho Woo
enlarge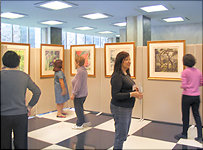 U.N. staff and exhibition volunteers enjoy a preview
enlarge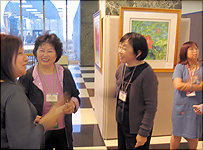 Cathy with Sharon Rothstein, Miriam Tsao, and Lina Arellano
enlarge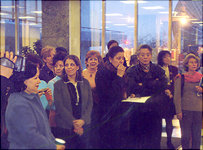 Opening night drew a standing-room-only crowd
enlarge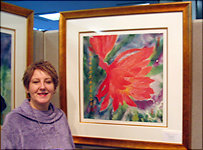 Exhibition volunteer Marolyn Toule and her husband Jim helped generously
enlarge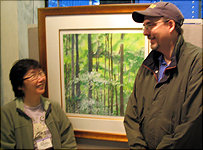 Volunteers Jill Tajiri and husband Jeff Jacobs rest after a day of hard work
enlarge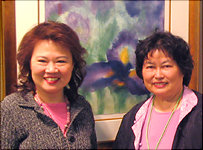 Dr. Woo with friend Tsu-Wei Chang, Vice President of the UNSRC Feng Shui Group
enlarge
Lectures and Consultations
Dr. Woo will be giving feng shui
lectures and consultations this fall,
as well as making formal presentations.
All are welcome. For more info,
please contact Dr. Woo at
info AT CathyWoo.com

Presentations in Taiwan, May 2012
Dr. Woo visited Taiwan from May 7 to 20,
2012, and met with many friends, family,
and members of the art community.

Wash., D.C. Folklife Festival
The Smithsonian Folklife Festival
is the nation's largest annual event,
attended by a million people on the
National Mall in D.C. each summer.
In July 2010, Dr. Woo—calligrapher,
painter, and feng shui master—told the
tale of Cao Cao's defeat at the Yangtze
River from Chinese epic work,
The Romance of the Three Kingdoms.
A fortunate East Wind saved the southern
armies of Sun Quan and Liu Bei from
impending invasion. Citing the Chinese
proverb, "all that is needed is an east
wind," Dr. Woo gifted to the Smithsonian
a scroll commemorating the historic Asian
Pacific Americans Folklife program.
The scroll contains the trigram for
"wind," (from The Classic of Changes),
symbolizing the wish for the East Wind
of fortune to bless the Smithsonian
in its future projects. For more info,
please contact Dr. Woo at
info AT CathyWoo.com

Irvine, CA Presentation
Dr. Woo spoke on "Poetry and Painting"
at the South Coast Chinese Cultural
Center (Irvine Chinese School) in an
event hosted by the S.C.C.C.A./Irvine
Chinese School and sponsored by the
Cerritos Chinese School, Fullerton
Chinese School, North Orange Chinese
School, and Irvine Reading Group.

Feng Shui at the United Nations
Dr. Woo spoke at an
in-depth Feng Shui workshop
entitled "Thirty Years Following
H.H. Grandmaster Lin Yun." It was
sponsored by the UNSRC Feng Shui
Group. The event was held at
One United Nations Plaza

AACS 50th Anniversary Conference
Dr. Woo spoke at a panel at
the 50th Annual Conference
of the American Association
for Chinese Studies at
California State Univ.,
Fullerton. For more info,
please contact Dr. Woo at
info AT CathyWoo.com

Protection From Natural Disasters
Dr. Woo travelled to New
York for two days of training at
the Millennium UN Plaza Hotel,
East 44th Street (between 1st
and 2nd), New York City. For
more info, please contact
info AT CathyWoo.com

The Law Firm of
R. M. Dreger, P.C.
Fine Arts Building
410 S. Michigan Ave. Suite 310
Chicago, Illinois
For information, contact Dr. Woo
at info AT CathyWoo.com
Allen Sheppard Gallery
530 W 25th Street,
New York, NY 10001
For information, call 212-989-9919.
Berkley Gallery
Main Street in historic old town Warrenton, Virginia
For information, call 540-341-7367.
Contemporary Fine Arts Gallery
7946 Ivanhoe Avenue
La Jolla, CA 92037
For information, call 858-551-2010.
Gallerie Amsterdam
Dolores street between 5th and 6th
Carmel, California 93921
For information, call 831-624-4355.
Gallerie Elan Ellicott City
8090 Main Street
Ellicott City, MD 21043
For information, call 410-461-0870.
Jag Art
4170 Morena Blvd., Suite C
San Diego, CA 92117
For information, call Jonathan at 858-414-4374 or
call the gallery at 858-270-8083.
Nature Boy, Inc.
Art Space Sanomiya
Exhibition January 4-31, 2007 in Osaka, Kobe, and Hiroshima, Japan
For information, contact Dr. Woo
at info AT CathyWoo.com.
July 26, 2007
Dept. of Eduction LARC Teacher-to-Teacher Workshop
Plenary: "Culture through Humanities: Poetry, Painting, and Music." Lecture: "Chinese Language Arts Development: Music, Poetry, and Art"
San Diego State University.
May 18-19, 2007
May 18, grand opening of Dr. Woo's first exhibition in China, at Zhuhai Museum. May 19, lecture on painting, poetry, and music at Beijing Normal University, Zhuhai, China.
May 10, 2007
Lecture on poetry and painting by Dr. Woo at Beijing University, Beijing, China.
March 24, 2007
Poetry Reading by Dr. Woo at the 14th annual Border Voices Fair, Montezuma Hall, Aztec Center, San Diego State University.
November 14, 2005
Lecture by Dr. Woo on her poetry, painting, and music. Wellesley College Chinese Department, Wellesley, Massachusetts.
October 22-23, 2005
Dr. Woo presents two lectures at the American Association of Chinese Studies Annual Conference: "Feng Shui and Health" and "Nature Poems." Vanderbilt University, Nashville, Tennessee.
October 15-16, 2005
Dr. Woo teaches a course in Feng Shui at the Long Island Feng Shui Institute, Old Westbury, New York.
August 10, 2005
Dr. Woo lectures on the Art Feng Shui at the International Facility Management Association in San Diego.
June 23, 2005
Dr. Woo lectures on the Art Feng Shui at the Arica Hilton Fine Arts Gallery, Fine Arts Building, 410 S. Michigan Ave., Suite 733, Chicago, Illinois 60605.
June 22, 2005
Dr. Woo lectures on the Art Feng Shui at the Chicago Culture Center.
May 20 – June 20, 2005
Exhibition at Gallerie Elan in Bethesda, Maryland. Ribbon-cutting on May 20, at 6pm by H.H. Grand Master Lin Yun. Reception from 6pm to 10pm.
September 11 – October 11, 2004
Exhibition at Gallerie Amsterdam in Carmel, California, located on Dolores street between 5th and 6th. For more information, call 831-624-4355 or email amst12@aol.com.
September 12, 2004
Feng Shui lecture by the artist, Dr. Catherine Yi-yu Cho Woo, at Gallerie Amsterdam, Carmel, California.
July 20 to August 14, 2004
Exhibition at Allen Sheppard Gallery in New York City. To arrange a private viewing, call the gallery at 212-989-9919 or Cathy Woo at 949-654-8288.
April 11 to 30, 2004
Exhibition at Bernstein Gallery at the Woodrow Wilson School (Robertson Hall, corner of Washington and Prospect Roads) at Princeton University.
April 10, 2004
Lecture on Chinese poetry, painting and music at the China Institute 125 East 65th Street, New York City.
March 29 to April 9, 2004
Exhibition in South Staff Lounge of the United Nations Secretariat Building (main floor), sponsored by United Nations Staff Recreation Council Feng Shui Group.
For more information on Dr. Woo's work, the influence of feng shui in Chinese art, or to arrange to view or acquire her paintings, please contact the artist directly at info AT CathyWoo.com