Dr. Catherine Yi-yu Cho Woo (1935 — 2021)
Scholar, teacher, painter, poet, composer
The Honorable
Dr. Catherine Yi-yu Cho Woo
was an accomplished poet, composer, painter, teacher, and writer. She was the first Asian American woman to serve on the National Council on the Arts, and was honored by the National Endowment for the Arts with an appointment as an Ambassador for the Arts.
Dr. Woo's paintings have been shown in galleries and museums throughout Asia and the United States, including the United Nations, the Sackler Museum at Harvard University, and the National Gallery in Taipei, Taiwan.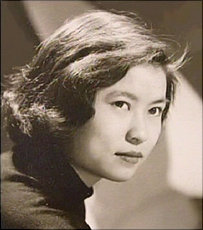 Cathy Yi-yu Cho in 1955 as a young architecture student at the Univ. of Illinois Urbana-Champaign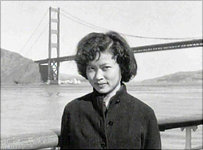 Cathy Yi-yu Cho in September 1953 on the S.S. President Cleveland as she passed under the Golden Gate Bridge for the first time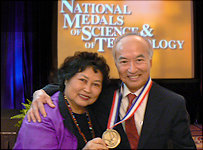 Cathy with her brother, Dr. Alfred Cho, after he received the National Medal of Technology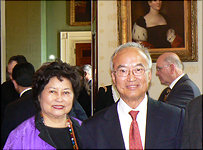 Cathy and her brother, Alfred Cho, at the White House reception on July 27, 2007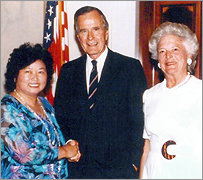 Yi-yu with President Bush and the First Lady, Barbara Bush
enlarge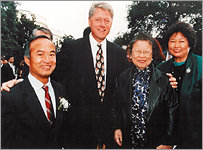 Yi-yu with her mother, her brother, who had just received the National Medal of Science, and President Clinton
enlarge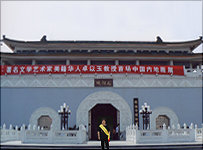 Dr. Woo standing before the Zhu Hai Museum on May 18, 2007, under a red banner announcing her first art show in China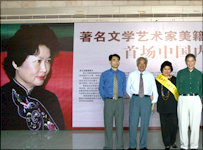 In the foyer of the Zhu Hai Museum (L to R: Prof. Qian Yan; husband, architect Peter Woo; Yi-yu; Prof. Kenneth Pai of UCSB)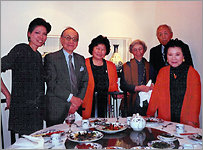 Dinner in New York with I. M. Pei and Uncle Moley Cho
enlarge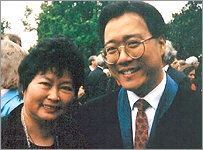 Yi-yu with cellist Yo-yo Ma at the National Medal of Arts award ceremony at the White House
enlarge
Yi-yu at a ribbon-cutting ceremony at a
Washington, D.C.
art show
enlarge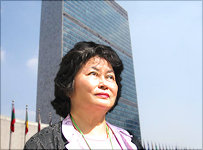 Cathy Woo at the opening of a two-week exhibition of her paintings at the United Nations in 2004
enlarge photo
One reviewer said, "To stand in front of Dr. Woo's work is to experience the stirrings of the heart, mind, and soul of nature, as if the paintings are alive. Trees and mountains breathe out peace. Splashes of color vibrate with the energy of life and movement. Her visually poetic paintings create a close relationship between the beauty of nature and its beholder."
Born in Beijing to a family of classically-educated scholars, all four of Yi-yu's great-grandfathers earned Jin Shi degrees. Dr. Woo's father, Cho I-lai, was a Columbia University-educated professor and her grandfather, Cho Chun-yung, was a banker, professor and master calligrapher who had been educated in Japan. Her maternal grandfather, M.K. Chen, a civil engineer, graduated from Cornell University in 1912.
While Dr. Woo began her formal training in art and calligraphy in Beijing, her family moved to several cities in China and finally to Hong Kong in 1949. One benefit of living in several places as a young person was that Dr. Woo is able to speak six dialects of Chinese. She was well known for being able to determine the native dialect of people she meets after hearing them speak just a few sentences, and then making them feel at ease by speaking to them in that dialect.
In 1953, a young Cathy Yi-yu Cho sailed for the United States on the S.S. President Cleveland to begin her studies in architecture at the University of Illinois in Urbana-Champaign. She always remembered the first time she looked up at the Golden Gate Bridge in the beautiful mountain-lined San Francisco Bay.
After meeting and marrying architect Peter Woo at the University of Illinois in 1957, they moved to San Diego, California. Yi-yu stayed home for ten years to raise their children, Paul and Cindy.
When Cindy started school, Yi-yu picked up her books again, completing undergraduate and Masters degrees in Interior Design and Art History from San Diego State University (SDSU), studying Chinese literature and language at UCLA, and earning a doctorate from the University of San Francisco. During this time, she also studied the art of Feng Shui with His Holiness Grandmaster Thomas Lin Yun Rinpoche of the Yun Lin Temple in Berkeley, California.
Dr. Woo served as Director of the Chinese Language Program at the National Language Resource Center, and formerly directed the China Studies Institute and the Center for Asian Studies at S.D.S.U.
She won numerous awards for her teaching, including 1988-89 SDSU Outstanding Professor, 1990-91 SDSU University Research Lecturer, Distinguished Professor of Chinese, and 1995 Phi Beta Kappa Lecturer. In May 2005, she received an Asian Heritage Award for Achievement, Contribution and Legacy in Art, Philosophy and Literature.
Dr. Woo was the rare artist who could address both scholarly and mainstream audiences. She authored nine books in Chinese and English on Chinese literature, art, and culture. Her collections of poems have been well received internationally, and one, "Tian Tian Tian Lan," was made into a popular song that was a number one hit in Taiwan.
As an Ambassador for the Arts and for intercultural understanding, Dr. Woo lectured at universities throughout the United States, such as Yale, Harvard, Princeton, MIT, Duke, and the University of California at Berkeley. She also lectured at the United Nations and the National Endowment for the Arts.
Aside from her university work, Dr. Woo spent many years serving the broader community. For six years, she served as the Commissioner for Arts and Culture for the City of San Diego, California. She was appointed by President Bush to serve on the National Council on the Arts from 1991 through 1996. For her efforts, she was honored in 1997 as Humanitarian of the Year by the National Conference (formerly called the National Conference of Christians and Jews).
Her paintings have been described as visual poems, because of the simplicity, intensity, and purity of her expressions. A master of Feng Shui, the 4,000-year-old Chinese art of designing one's environment to maximize the flow of positive energy (ch'i), she channeled into her works an insight into beauty and peacefulness that is sought after by devotees ranging from New Age seekers to mainstream American corporations.
For many years, she provided private Feng Shui consultations to individuals and businesses from California to Washington, D.C. Her clients included major hotel chains, restaurants, bakeries, shoe companies, and others seeking to maximize their ch'i.
In May of 2007, Dr. Woo lectured at Beijing University and then traveled south to attend a major exhibition of her work at the Zhu Hai Museum and lecture and receive an Honorary Deanship at Beijing Normal University at Zhu Hai.
Accompanied by her husband, noted architect Peter Woo, and Professor Kenneth Pai of the University of California at Santa Barbara, she was greeted at Zhu Hai by President Miao Zhong-zheng, Dean Zhang Ming-yuan, Prof. Qian Yan, and the faculty of the University.
Another highlight of the Zhu Hai visit was the singing by a group of students of Dr. Woo's award-winning "Tian Tian Tian Lan." This song was based on a poem of the same name by Dr. Woo which became a number one hit in Taiwan. Students not only flocked to Dean Woo's lecture, but asked her to give several impromptu calligraphy demonstrations during the course of her visit.
On July 27, 2007, Dr. Yi-yu Cho Woo returned to Washington, where she had served for many years on the National Council for the Arts, so that she could watch her brother, Dr. Alfred Y. Cho, receive the prestigious National Medal of Technology at the White House. The President and numerous dignitaries celebrated Dr. Cho for his pioneering work in the development of crystals that are used in our cell phones, computers and many other cutting edge products.
After retiring from active teaching, Dr. Woo lived with her husband Peter in Irvine, California for many years. She traveled the nation and world in search of greater understanding and harmony between all of the world's peoples, and accepted numerous invitations to give lectures and display her work in museums and art galleries all over the nation and world.
Dr. Woo passed away on August 11, 2021. Her legacy lives on through her two children, six grandchildren, and five great-grandchildren, as well as in the memories of the many people whose lives she touched.